Membership at a national level means you become a Governing Member of 4-H Canada.
Governing Members play a critical role in 4-H Canada.
As a Governing Member you get to directly support the strategic direction and advancement of 4-H in Canada to ensure we continue to empower youth to Learn To Do By Doing.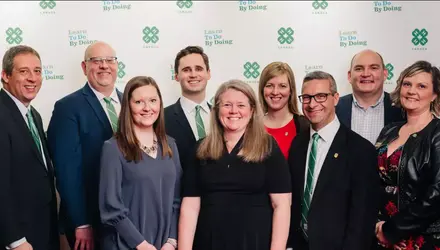 What is a Governing Member?
Our Governing Membership body is a community of respected industry leaders, comprised of individuals 18+ and organizations. Together, they support the strategic direction of the 4-H movement, select the 4-H Canada Board of directors, and vote in the Annual General Meeting.
Become a Governing Member
Your involvement as a 4-H Canada Governing Membership directly support today's youth leaders by ensuring strong governance, relevant industry partnerships, and financial stability.
We offer three categories of memberships, each with various benefits and involvement opportunities.
All Governing Memberships include a list of valuable benefits.
As a governing member, you can help shape the 4-H movement for the future, get news on our programs and their impact, access a network of engaged supporters, and be recognized for your commitment to positive youth development.
Benefits:
Voting rights at the 4-H Canada Annual General Meeting
Participation in electing 4-H Canada's Board of Directors
Invitations to 4-H Canada and partner events
Invitation to the 4-H Canada Leadership Awards
Listing in governing membership section of 4-H Canada's annual report and website
Subscription to 4-H Canada publications, and more.
There are three levels of governing membership
Find out which one is right for you or your organization
Individual memberships are available to alumni, volunteers, and individual supporters of 4-H who wish to actively participate in the direction of the 4-H movement.
Associate Memberships are available to registered charitable or non-profit organizations, educational institutions, and business and trade organizations.
Corporate Memberships are available to companies, corporations, and co-operatives, and provide the opportunity to designate a voting representative.